San Diego Fish Report
Lake Cuyamaca Fish Report for 2-7-2021
Lake Cuyamaca Fishing Report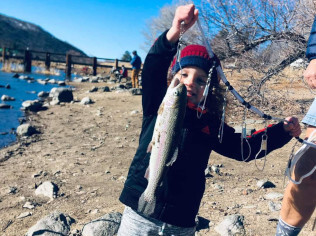 Photo Credit: Courtesy of Lake Cuyamaca
Lake Cuyamaca Fishing Report
2-7-2021
by Lake Cuyamaca
(760) 765-0515
Website


Dusty Britches here with they call me Lemon Yellow, Black Bird singin in the dead of night, Purple Rain, and the Red Red Robin goin bob bob bobbin along. Seems like we are getting some strange characters visiting the Lake lately, like the double breasted whatchamacallit, and the white pelicans which have beaks that hold more than their belly can.
We are getting a cadre of photographers hanging around with hopes of catching a snap or two of the local bald eagles. One interesting gentleman waited all morning at the boat launch with his beyond Christmas zoom lens, tri pod, and various other cameras and pieces of video equipment that he wheeled in on a small wagon. Eventually getting hungary, and a little bit discouraged, picking up and packing everything, he was walking away when one of the eagles flew by just above the surface of the Lake. Timing is everything.
The lightning trout that were stocked last December are still coming out. I guess they were resting. Pretty good size. They are hooking up at Chambers Park just below the tent camping area and with the loosening of the Covid restrictions, we can now rent our R.V. and tent camping sites.
Billy Egan of Western Outdoor News touched base with us to catch up on the particulars of, although postponed, but inaugural, Trout Cast trout tournament here. Yes, here at Lake Cuyamaca. It is re-scheduled for the weekend of April 24-25 with some hot prizes. The grand prize is a 15 foot Klamath aluminum welded boat with a 68 BT 'easy loading' trailer, a 12 position swivel seat, rod grippers, cup holders. Oh yeah, and a Df-20-A 4 stroke 20 horsepower Suzuki outboard motor to boot. So the big boys are coming to town! There are quite a few locals who have already thrown their hat into the ring, so we will be well represented. Cuyamaca Lake will be stocked for the event. Western Outdoor News will be giving more information regarding registration, prizes, and how you win those prizes in upcoming Western Outdoor News publications, so stand by.
Switching gears here a little, the waterfowl hunting is winding down with the Junior Waterfowl Hunt. Jay Blaylock has done another 5-star top notch job of ram-rodding the herd of hunters who have come to Lake Cuyamaca and braved the elements to get chance at the waterfowl we have here at the Lake. Sometimes Jay reminds me of a young Clint Eastwood in the 60's series Rawhide as Rowdy Yates working for Gil Favor as they drive their cattle across thecountry to market. The hunts occurred on Wednesday's and Sunday mornings since the first weekend in December. In the Junior Waterfowl Hunt, the grand prize was a 12 gauge pump shot gun, but everybody received a camo dry bag filled with stuff. Lots and lots of stuff. Many thanks to Sunny Trent and Turners Outdoors for their help in some of the prizes. So, everybody was a winner. The participants were Samantha Corless, age 13, with Peter Corliss…her father as her guide; Palmer Barnett, age 14, with Steven Barnett, her father as her guide; Simon Jones, age 12, with Kevin Jones his father as his guide; Jake and Alexander Saint, ages 13 and 12 respectively, with Jon Saint their father as guide; Yusuki and Yuji Murofushi, ages 13 and 9 respectively, with Gen Murofushi serving as their guide; and last but not least, Nela and Slate Moody, ages 14 and 8 respectively.
The grand prize winner of an EAA (European American Arms) MC 312 Inertia 12 gauge shot gun was 9 year old Yuji Murofushi!
Jake Saint brought down the only bird (a mallard hen) and Nela Moody made a video of some resident Canada Geese flying over their lay-out blinds in the (east) upper lake basin. Good show!
Have you ever heard a duck fart? Most people say they haven't or that ducks don't fart, but if you listen very closely when you are near a body of water with ducks around on a quiet snowy day, you'd be surprised! Although my wife and Teri from up the hill don't believe me, I told them to Just try it.
Happy Trails to you, until we meet again, happy trails to you. Keep smiling on til then. Happy trails to you til we meet again.
Tight Lines and Bent Rods. Dusty Britches
< Previous Report
www.SanDiegoFishReports.com © 2021. All Rights Reserved.
Website Hosting and Design provided by TECK.net