San Diego Fish Report
Fish Report for 5-6-2019
The Last 7 Days
The Last 7 Days
5-6-2019
by Royal Polaris Crew
(619) 226-8030
Website


Day One:
The Search Begins
We arrived at our destination in the mid morning hours, did some checking out, and did it pay off. We had an excellent day of Wahoo fishing, but the Yellowfin are still playing hide and seek. Most of the Wahoo are in the 30 to 40 pound range, with a few going to 50. It was a tough first day on the Yellowfin, but the Wahoo kept our passengers busy for most of the day. Weather continues to be excellent, with a slight breeze, sunny, and warm. So wish us luck, and we will keep you posted on our daily events. Team R/p
Day two:
Thank You Wahoo
Today was almost a repeat of yesterday. Decent Wahoo fishing, and tough again on the Yellowfin. The tuna we did catch were in the 70 to 100 pound range, with a few jumbo's. We did have one fish over the 200 pound mark, caught on bait. Paul G was the lucky anglers. Paul's fish came in at 250 pound, caught on a Mackerel. We will try to get some flying fish tonight, and give it the old collage try again tomorrow.

Day Three:
Wake Up to Yellowfin Definitely things are changing, with a good morning wake up call from the tuna, things are starting to look better. The kite did some producing this morning, but after 0900 hours, things just cooled off. But the morning bite did produce another 200 pound fish. Sam was the luck angler, with a 234 pound jumbo. The rest of the Yellowfin were in the 140 to 180 pound range. We did scratch for most of the day, but it was a very long day today. The Wahoo also have a banded us. We are hoping things will change for the better. Until next time. Team R/p.
Day Four:
The Bright Side Hello everyone; Lets look at the bright side of the picture. We are having excellent weather, but today the fishing was slow. Who ever wrote that quote: "A bad day a fishing, is still better than a good day at work" didn't have my job. Things are very tough down here, but we look to the future, and something has to change. The Yellowfin today were in the 120 to 180 range, and the Wahoo are good size, 30 to 40 pounds. There's very good life around the boat in the afternoon, but it was all show and no go. It was the most life we've seen since the trip started. So may be something is about to change. So wish us luck. Team R/p.
Day Five:
What a differents a day makes. Hello everyone, well things a looking good down here. We would have our best day yet. Most of the Yellowfin were in the 80 to 120 pound, with a few in the 150 to 180 pound range. We stayed on the anchor all day, so Wahoo fishing was almost nothing, but a few would pass by the boat to test out a bomb or two. Things are starting to look good, for now. Wish us luck, team R/p.
Day Six:
Let's Get Busy Hello everyone; It's day six, and things are looking really good. The Yellowfin were on the bite, with most of the fish in the 80 to 120 pound range, with a few larger one's. We did some late afternoon Wahoo fishing, and it payed off for those who came out to toss a bomb or iron. The Wahoo were good size, with most 40 to 50 pounds. We have a Rollo Jackpot contender. With the boat full of bait, we won't be making any bait tonight. We are hoping for another good day tomorrow.
Day Seven:
What happened???? Hello everyone; Well we would wake up to no morning bite, but to our surprise, Big Mike would pull us out of the dump. Mike would get his first Cow. Mike's personnel best would come in at 210. That would be our highlight of the day. With a few Yellowfin and Wahoo making up the catch for our day, Roy made the decision to make a move. So we are headed up the line. So with that note, wish us luck. Team R/p.
< Previous Report
Next Report >
Royal Polaris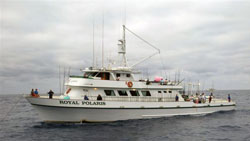 < Previous Report
Next Report >
More Reports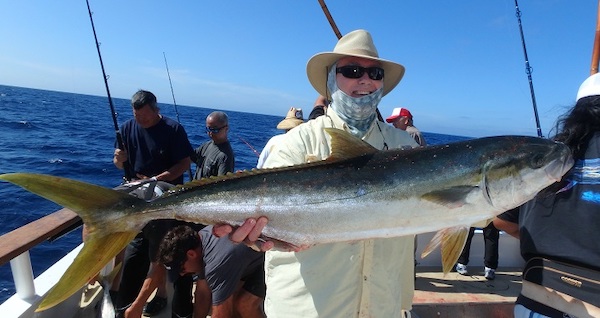 4-27-2019
Hello everyone; We arrived to Alijos Rocks at 08:00 hours. Roy looked around for a few minutes, dropped the anchor,......
Read More
4-25-2019
Hello everyone; With an early morning start, the crew of the Royal Polaris departed Fisherman's landing and headed to the bait barge. With a good load of bait, we headed back, loaded our passengers, and headed south. Once we cleared the point, Roy gave his safety seminar and gave the stage to John Collins. John had a Friends Of Rollo raffle that raised 1800 dollars for the Friends Of Rollo. This will help send kids fishing, and teach them there more to......
Read More
SanDiego.FishReports.com © 2019. All Rights Reserved.
Website Hosting and Design provided by TECK.net